Did you know that most of your brain is made up of fat? About 60%...
Mastercard, Visa, American Express
Home
>
Golf BBQ Grilling Set
Golf BBQ Grilling Set
The 7 Piece Golf BBQ Grilling Set

There are two things that men love above all else golf and grilling...OK, make that three things.

Give your favorite golfer the perfect treat with the Golf BBQ Grilling Set. These stainless steel fork, tongs, golf ball salt and pepper shakers, grill cleaning tool and gold bag case are all fitted with golf club grip handles, so you can always keep your steak on the green...er...grill.
Every sizzling entree will be a hole in one with guests as they gobble down burgers and barbecue chicken while you practice your putt with the golf club shaped spatula. If you thought keeping him off the golf course was hard, good luck keeping him away from the grill.

All the tools in the Golf BBQ Grilling Set easily fit in the golf bag which even has a zipper pouch to keep your favorite spices and rubs safe on the go.

Many golf pros try and tell you the game is a metaphor for life, but with the Golf BBQ Grilling set it's a metaphor for awesome tasting food. You'll be the hit of the party with these tools. They are the perfect gift for any father, groom or die-hard golfer that doesn't want to put down the clubs long enough to eat.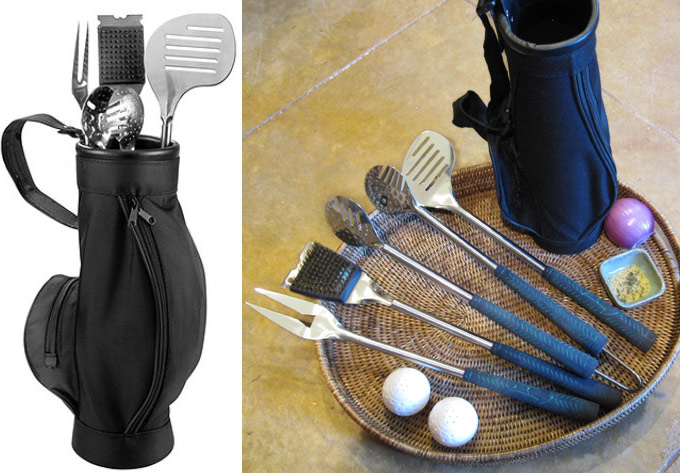 We think you will love these products...
Reviews
Golf BBQ Grilling Set

by linda d On 12/15/2011
This BBQ set is a Christmas gift so I haven't used them but they appear to be nice and very strong. High quality and oh so cute!!!